<![if !vml]>

<![endif]>
Rev. Robert McDowall, the First Presbyterian Missionary
In Upper Canada -- His Life Work and Memorial Church
BY THOMAS W. CASEY, NAPANEE
[FROM THE SATURDAY GLOBE, TORONTO, JUNE 18, 1898]
<![if !vml]>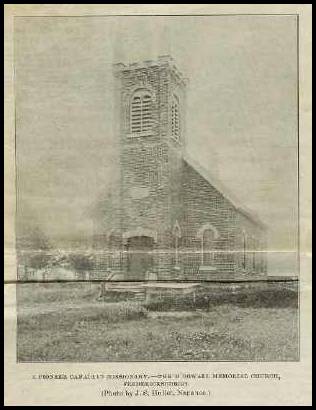 <![endif]>
   It is now just one hundred years since the first Presbyterian missionary was sent to the Province of Upper Canada.  A considerable number of the United Empire Loyalist pioneers who settled about the shores of the Bay of Quinte in 1784 were Presbyterians, principally from various points along the Hudson River, in New York State, and these appear to have been living in Upper Canada a number of years without once enjoying the opportunity of the ministrations or considerations of their own church.  The leader of the Adolphustown pioneers was Major Vanalstine, a member of the Reformed Dutch Church, and  it is said to have been through his representations and persuasions that the Rev. Robert McDowall was ordained and sent by the then Presbytery of Albany.  He was a native of Saratoga County, New York State,  was educated at William's College, Schenectady, and immediately after his graduation from the at college was ordained a minister of the Reformed Dutch Church and selected as a missionary to the then almost unbroken wilds of Upper Canada.  He reached Kingston early in the spring of 1798 and found but a small struggling village there at that time, whose spiritual wants were being supplied by the Rev. J. O'Kell Stuart, the first Church of England minister in this Province - a U. E. L. refugee from the Mohawk Valley - and Rev. Darius Dunham, the first ordained Methodist minister in Upper Canada, who made only monthly visits to that locality.  Mr. McDowall appears to have made his headquarters from the first at the Village of Bath, twelve miles farther west of Kingston, on the Bay of Quinte, where the Rev. John Langhorn, Church of England, had been at work for some years and where a pretty substantial church of that denomination had just been built, which is still in use and is now the oldest Anglican church standing in the Province of Ontario.  Darius Dunham was also supplying as a Methodist itinerant there and had a substantial Methodist church a dozen miles farther up, on the shores of Hay Bay, which was the first of that denomination built in Upper Canada;  there was also a Methodist Church at the time in the fourth concession of the "Second town," now Ernestown, a few miles back of Bath.
   For the first two years of his missionary life in Upper Canada Mr. McDowall was a missionary at large, travelling over extensive distances and finding out here and there all who had been Presbyterians, but not confining his ministration to such.  He was then the only Presbyterian minister from Cornwall on the east to as far west as where London now stands, except one in the Niagara peninsula.  Two years later, in 1800, regular congregations were formed at Bath and "Third Town," now South Fredericksburgh, a few miles west of Bath, and he was regularly ordained as their minister, yet he always continued his extensive missionary labours, making periodical trips as far east as Elizabethtown, and Brockville, and west to Little York, now Toronto.  Sometimes he followed on up west the pioneer settlers, and in some of these trips is said to have watered his horse - his only travelling companion in all these wilderness journeys - in the waters of the Thames River somewhere in the vicinity of where the City of London now stands.
   What hardships, privations, difficulties and discouragements a horseback journey through that stretch of nearly four hundred miles of Canadian wilderness nearly a century ago really represented few of us can now hardly imagine.  Very few of the rivers had bridges, and could be crossed only by swimming or fording.  There were no roads in many places where flourishing villages and large towns now exist - not always even a "blazed" track through the dense forests - and sometimes for a whole day's trip only here and there a settler's log shanty where the barest necessities and shelter could be obtained.  And yet for nearly forty years the Rev. Robert McDowall continued his active ministerial and missionary work, cheerfully enduring his many privations and hardships, not always counting even his life dear unto himself, in order that he might thus finish the work whereunto he was sent.  It was by means like these that the foundations for many of the large, wealthy and prosperous Presbyterian congregations were first laid.  Up to a few months previous to his death, which occurred in 1841, he continued to travel, visit and preach.  An old resident near this locality informs the writer he well remembers hearing him preach his last sermon at Bath, a few months before his death, taking for his text the appropriate and closing words, "The spirit and the bride say come."
   Mr. McDowall appears to have been a very successful church builder.  His first preaching were necessarily in the rude log homes of the early settlers.  In many cases there was but one room in the house, with the large fireplace across one end and the beds end to end in the other, and the trundles for the children shoved underneath.  The preacher would come some time during the day and get word sent on of his coming.  A horn would be sounded in a particular manner and word sent out to the nearest neighbors, who, in their turn, would send to others, until the news would spread for miles around, and more would sometimes gather in than the house could contain.  It was not an unusual thing for the preacher to stand in an open door and thus preach to those outside and in.  In this way it was often managed to hold services every night during the week for nearly a month's round trip. As school houses were built nearly every one of them was utilized as a preaching place.  Log barns were used in the summer, and many outdoor services were held when the weather would permit. Sometimes the first sermon Christian families had heard for years would be in connection with such opportunities.  The missionary's coming was often a veritable "angel visit" to many such.
   The need of churches was, of course, very apparent.  Mr. McDowall managed to have a good substantial one erected near his own home, which is still standing and in use, and probably the oldest one of its kind now in what was the old "Midland District," which comprised all the Bay of Quinte counties.  Another was built at McIntyre's Corners, a couple of concessions back from the bay, north of Bath.  That was over 70 years ago, and was at the time probably the most commodious church in these counties.  But it has passed away, and even the burial ground now stands in an open field, with scarcely a vestage of a headstone left.  Another was built at Wilton, some ten or twelve miles further back, but it is gone and a new and modern one has taken its place.  Another was built a Demorestville, in Prince Edward County, which is still standing and in use, and probably others in various sections of these counties.  The Presbyterians were a numerous and influential body in these counties at a very early period in this century, and that fact is largely attributable to the indefatigable efforts of their first Canadian missionary.
   It may be as well to state just here that the first church to which reference has been made was built about 1834 and stands near Sandhurst post office, South Fredericksburgh, in a very pretty situation on the Bay of Quinte shore, commanding a very pretty view not only of the bay but of Lake Ontario, a little beyond.  The waters of the two are united here at the "upper gap," being separated on the west by the extreme point of Prince Edward County and on the east by Amherst Island.  The history of the building of it was, no doubt similar to most of the others in the early days.  Money was yet very scarce, but the people were liberally inclined and very willing to help as they could.  One member, John Murdoch, cut and dressed out some sticks of timber on his farm nearby and drew them with his oxen for the foundation.  Others, no doubt, gave similar help.  Some who had neither timber nor oxen turned in and helped with their strong arms.  One carpenter, Nicholas Murdoch, traded a young steer for some first-class lumber and made the pulpit as his contribution, which is still in use and is yet a good specimen of the taste and shill of the grandfathers of many of to-day.  Another of the very old residents remembers helping to work and put up the frame, at which men for miles round assisted.  Mrs. McDowall and other women were on hand there, cooking and providing dinner on the ground for all those willing helpers.  One old lady, now in Kingston, remembers helping other women do the inside painting, the men getting on ladders to do those parts beyond their reach.  "The people had a mind to work" then in such matters, and so church after church went up.  A dozen years ago the old church had become a good deal dilapidated, and the families of the first members were much scattered.  The Rev. Mr. Cumberland and a few others took it in hand to have the old church renovated and improved and transformed into a McDowall Memorial Church, in honor of its first pastor, who was buried, with a number of his family, in the yard surrounding.