<![if !vml]>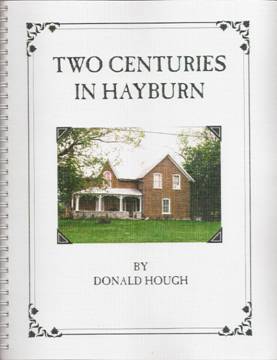 <![endif]>
By Donald Hough
published 2000
TWO CENTURIES IN HAYBURN, a book by Don Hough, is a companion of similar format to his "TWO CENTURIES IN SILLSVILLE", which was published in 1997. The author is a life-long local resident and also a sixth generation descendant of pioneer John Hough, U.E. who settled on neighbouring Lot 6, Con. 2, in 1784. Both of Don's books, like the other publications of the South Fredericksburgh Heritage Committee, deal with the history of the local communities of the Township.
TWO CENTURIES IN HAYBURN covers the records, lot by lot, of ownership on Concession 3, Additional, from the Crown Grant to the present owner, and includes extensive genealogical information on the families who lived there.. These books will prove invaluable to future generations, both as a record of land holdings and local family history.
At $20.00, Two Centuries in Hayburn is the perfect gift for someone with roots in the area, perhaps looking for an ancestor.