<![if !vml]>

<![endif]>
<![if !vml]>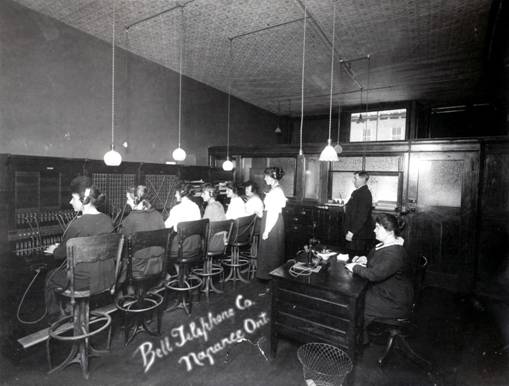 <![endif]>
Bell Telephone Company, Napanee
Left to Right:  Maude Garrison, Francis Mills, Celia Manion, Merty Mills, Helen Cavanaugh,
Jessie Cleall,  Mary Cavanaugh (standing), Mary Nolan (at desk), R.B. Fair, Repairman.
Photos Courtesy of Kevin Hoeg
<![if !vml]>

<![endif]>
   First Manager Was Jack of All Trades –
   The manager was a "jack-of-all-trades".  He erected his own lines, installed his own telephones, repaired the switchboard, relieved the operators, collected his own accounts, and, in his spare time, made up his accounts and reports.
   "We had no wagons or cars, we were our own auto, and would start off with a cross-arm and a coil of wire and a tool bag to complete our line and then return to the office to carry out the telephone or telephones that were to be installed.
   "As they said in the war:  'It was a lovely time!'  Work outside all day and then operate from 6 to 9 or 10, and then come home to prepare for the next day's duties."
   These were the hardy days of the early 80s as recalled by Charles W. Stringer, who started working for The Bell Telephone company of Canada when it was first organized back in 1880.  He was serving as temporary manager at nearby Kingston for several months during the summer of 1883 while the regular manager, R. Freeman, was completing the pole line from Kingston to Belleville.
   Mr. Stringer noted that "the long distance line was opened for business to Napanee, Thursday, December 5, 1883 – did a very large business, one message to Napanee, but we did not celebrate the event.
   This same long distance line extended from Quebec City to Windsor by 1885, and two years later, a side line reached from Napanee to nearby Tamworth.
   For some time now, the small switchboard in Napanee had been responding to the turn of the crank from the hours of 1 a.m. to 8 p.m. on week days and from 2 to 4 p.m. on Sundays.
   Strollers along Dundas street on a sunny afternoon often paused at W. D. Madden's bookstore to glance at the inviting titles of the latest publications.  Interest sparked, they would enter to browse through copies of "Ben Hur", George Wilbur Peck's book, "Peck's Bad boy and His Pa", or Ella Wheeler Wilcox's "Poems Passion."  Periodicals such as the "Ladies' Home Journal" or the old humour magazine "Life" were lying conveniently nearby.
   Suddenly activity in the rear of the bookstore would attract their attention to a still unfamiliar structure before which Mr. Madden was intently working.  It was the primitive switchboard serving Napanee's first telephone subscribers, and Mr. Madden was their local agent.
   There were 11 customers listed in the small pocket-sized telephone directory for the Ontario department in November, 1883.
   Templeton and Beeman, partners, took over the telephone exchange in 1886 for five years.  The office was now located in the Perry building opposite Campbell House on the south side of Dundas street.
   These men saw the number of customers mushroom to a total of 102 by the end of 1887, creating a record here of more telephones per capita than any other place in Canada.  It was, indeed, a thriving community with many progressive industries and lumber mills.
   Telephone numbers appeared for the first time in 1889,  with this "Special to Napanee Subscribers" appearing before the listings in the regular directory:  "Ring for central office, then immediately remove the telephone and listen;  when you hear the operator speak, give number and letter, if any, of subscriber you wish to communicate with and you will be connected at once or notified that the line wanted is in use.  With switching machinery now in use operators cannot pay any attention to calls for names as they do not know where to look for a line except by its number.  The number wanted should be spoken with special distinctness to prevent mistakes."
   Two years later, these same customers were enjoying continuous telephone service with the "office always open."
   Before the turn of the century, the Bell Telephone Company began advertising its new long distance telephone at a slightly higher rate for more satisfactory service:
Up-to-date Business Men
Use the long distance telephone
And have Long Distance Equipment
IN THEIR OFFICES
   By 1903, when H. W. Snelling was manager, several Napanee customers began using these telephones and had asterisks placed before their names in the March issue of the Eastern Ontario telephone directory to indicated this fact.
"Beaver" office,  W. Templeton, prop., Dundas.
The Bell Telephone Co., Local Mgr's. office, Dundas.
Gibbard Furniture co., Office, Dundas.
Neilson-Robinson, Druggists, Dundas.
Scott, W. C., Residence, Graham.
Shibley, M., Implements, Dundas.
Templeton, Wm., Residence, Thomas
VanLuven, F. E., Grain Dealer, Mill
   Miss E. M. Scott took charge of the telephone office in 1905, for about two years.  During this time she saw a number of independent telephone companies appear on the local scene.  Among them were Fretts and Briscoe Telephone System, Cadman and Milling Private Line, Palace Road Telephone Company Ltd., Riverdale Telephone Co., Pleasant Valley Telephone Co., Lit., Hawley Telephone Association, Brook Dale Telephone Co., Herrington Telephone System, Perry Telephone System, and Lennox Telephone Co., Ltd., all connected with Napanee switchboard.
   Fretts and Brisco telephone System was sold to the Bell Telephone company during 1947 and Perry Telephone System expropriated by the township of Amherst island in 1952.
   Hawley Telephone System went out of business last year, while the Bell took over the territory of Lennox Telephone Co. Cadman and Milling, Brook Dale and Herrington dropped from the scene some time ago.
   Around the time of the coming dial conversion, the Bell will purchase Riverdale whereas Pleasant Valley will continue to be served by the present company, Palace Road will be taken over by the Napanee and Deseronto Rural Telephone company.
   Miss Scott was still looking after the local office in 1914, when a serious fire broke out in the Perry block, forcing the exchange to move to Campbell House block where it remained for many years.
   Here, Miss Mary Nolan became local representative in 1920.  Through the years she saw the number of telephones steadily increase to well over 500, except for a brief halt during the depression of the '30's.
   She was still taking care of Napanee's telephone needs on January 19,1940, when the last crank was turned and local customers began using the new common battery system of operation.  At this time the exchange was moved to the Bell's newly erected building on the corner of Centre street and market square.
   Miss A. M. Cavanagh took charge as local representative late in 1947 and by the end of the following year had over 1,000 local customers under her care.  Mrs. A. L. Knox has been local representative since 1956.
   Today, with a record of nearly 2,000 telephones in use, Napanee customers have indeed disproved a prophecy made by an American newspaper in the very early days:
"Granting that a long distance telephone will be forthcoming, it will require an absolutely perfect condition of elements along the route over which the wire runs;  there must be no rain, no fog, no sleet, nor mist; no moisture in the atmosphere, no electrical storms.  After all these difficulties have been overcome, there still remains many reasons why it will not be a success.  No, sir, the coming long distance telephone will be a plaything, nothing more."
   Indeed, the Bell did find it necessary to warn customers of the '80's that "Owing to atmospheric disturbances, long distance talking is not always satisfactory, it being subject to considerable variation.  At times subscribers one to 200 miles away can be heard with astonishing clearness;  at other time, owing to the above causes, great difficulty is experienced and it is found impossible to hear distinctly."
   However, by the turn of the century, the Bell could advertise that "direct telephonic communication can be had with all principal cities, towns and villages in the provinces of Quebec and Ontario and the United States, within a radius of one thousand miles."
   This limit was gradually extended as improved copper lines and long distance equipment came into general use.  Then, in 1915, the introduction of repeater stations at intervals along the long distance lines to renew the voice currents, greatly improved the quality and scope of long distance service.
   By 1920, calls could be made to any point in Canada and the United States, though service to places outside Quebec and Ontario was still only available over United States lines.  The first all Canadian transcontinental route was inaugurated in 1932 with the opening of the Trans-Canada Telephone System by His Excellency Lord Bessborough, then the governor-General of Canada.
   In the meantime, overseas radiotelephone service between New York and London was opened in 1927, and was gradually extended to other centres on both sides of the Atlantic.
   The opening of the first transatlantic telephone cable in 1956 greatly increased the quality and scope of overseas telephone service until today Canadians can reach almost every country in the world by telephone.